Providing Commercial
Janitorial Services To The
Chicago Metropolitan Area

340 Bennett Road
Elk Grove Village, IL
847.439.1030

Consistent Quality
In Pursuit of Quality
The driving force in any business is to create and keep customers. This can only be accomplished by delivering superior quality. Pursuing quality means that we must know our customer's needs, understand their expectations and adjust our strategies to more effectively serve them. With this in mind, we view quality not as something to attain, but as a journey and continuous process.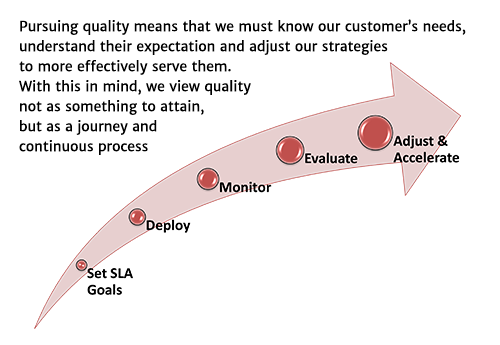 ---
Evaluation
Critical and honest evaluation of our service is a crucial part of our proactive strategy. An effective evaluation requires more than a system that merely "grades" quality. Instead the evaluation must provide process resolution and results. Evaluation examples include the following:

---
Inspections
Our customized reports pinpoint targeted areas as individual entities. Each target is thoroughly dissected and requires a specific analysis for each segment. The report documents follow up and lists a resolution strategy for each area. After each area is inspected, a final facility summary is completed. In addition to this monthly report, random inspections will be frequently conducted by various levels of management throughout the week.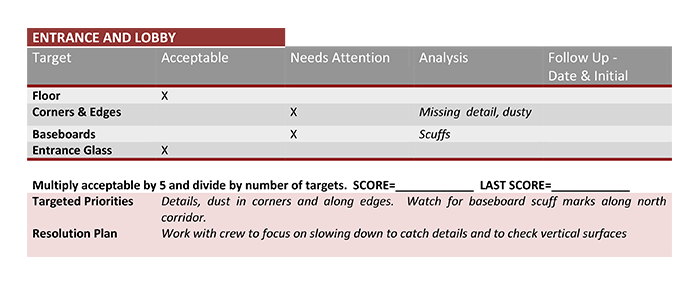 ---
Communication
Further assessment of performance quality will be derived from monthly scheduled meetings with facility managers. We value feedback and input from our clients as well as our employees. This on-going process assures us that we are helping our employees achieve the service goals we have set.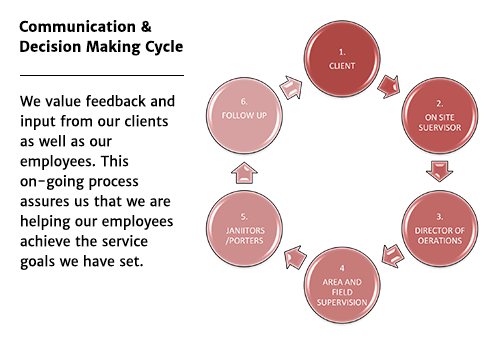 ---
Results
Pursuing quality requires us to continually ask ourselves:
Are we achieving the goals we have set forth to deliver value and satisfaction to our customers? Our Quality Assurance Program is specifically designed to assist us in our daily pursuit to deliver an outstanding level of quality.