Providing Commercial
Janitorial Services To The
Chicago Metropolitan Area

340 Bennett Road
Elk Grove Village, IL
847.439.1030

About The Company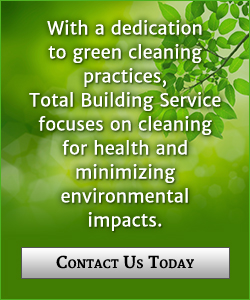 Total Building Service, Inc. has been providing excellent cleaning and janitorial services throughout the Chicago Metropolitan Area, Wisconsin and Indiana for over 30 years. As a leading janitorial service contractor, we provide our services for a variety of facilities including office spaces, retail, manufacturing, institutional and municipal buildings.
With over 400 fully-trained employees we continue to service over 15,000,000 square feet daily. Our extensive client list, including some of the most prestigious companies in Chicago, is a testament to Total Building Service's strong work ethic and dedication to complete customer satisfaction. This is accomplished by the pursuit of understanding our customers, their expectations and adjusting our strategies to more effectively serve their needs.
Total Building Service, Inc. is a certified, woman-owned business enterprise that is family owned and operated. All of our employees receive continuing education on the latest equipment and supplies. Our employees are taught to take pride in providing our clients with quality workmanship. Such training ensures that all work will be done in the most efficient and thorough manner possible for each client.
All employees are trained in accordance with all applicable safety rules and practices. In addition, all employees of Total Building Service participate in seminars sponsored by the Building Service Contractors Association, the International Sanitary Supply Association and various manufacturers of equipment and supplies.
Efficiency
Total Building Service, Inc. trains our entire operations team to deliver proactive service. We minimize the need to react to feedback, because we continually anticipate daily challenges and initiate immediate solutions. This approach enhances our partnership with our clients.
Prior to starting a project, we conduct a detailed analysis – an itemized breakdown of each section of the facility. We look at floor coverings, traffic patterns, population and any other special requirement. By utilizing the latest technology that focuses on the target productivity rate, we are able to offer optimal labor output with minimal labor hours. This means more value for our clients.
By keeping a constant eye on quality, we stay abreast of any changes in the needs of a building. By doing so, we can present our clients with new opportunities for implementing higher levels of efficiency.
Consistency
We place a strong emphasis on customer satisfaction and constantly strive to fulfill our mission every single day. At Total Building Service, providing high quality service consistently is our number one priority.
We view quality not as a set of cut-and-dried standards, but as a journey – a continuous process. Pursuing quality means we must know our customers' needs, understand their expectations and adjust our strategies to efficiently serve them.
Dedication
At Total Building Service, our solid staff of conscientious experts is a crucial element in maintaining our very high standards. Through extensive background checks and training programs, we strive to make our associates the most knowledgeable in the industry. By recognizing and rewarding those individuals that contribute to our reputation for excellence, we are able to build a strong, dedicated team with very low turnover.
Our management team brings to the table more than two generations of experience and a good, old-fashioned work ethic. We combine this experience with customized planning strategies to bring our clients the most efficient and consistent janitorial service available.
With an enormous amount of pride, our dedicated team services each building as if it were our own. We aim to not only meet, but to exceed, your expectations.